Medical Spa Software
Would you like a next-generation solution to streamline your medical clinic's workflows?
Demo Tour
Free Trial


Focus on your patients' needs
Have your EHR work for you by using Remedly to transform your practice operations and increase your profits. Remedly's med spa practice management software provides a one-stop-shop solution allowing you to focus on your patients' needs.
HIPAA-compliant solution
If you are searching for an EHR to organize your practice, Remedly is the right choice. Remedly is a fit for a wide range of medical specialties because of its customizability and scalability.
Remedly's next generation EHR and RCM software supports medical spa practices across the United States. Our mission is to: enhance patient care, increase productivity, boost revenue, ensure security and compliance, and support you to maximize performance in your practice.
Our med spa software will streamline workflows and give you more time and space for patient care by automating communications and processes, facilitating operations, and maximizing profits. Remedly EHR software transforms time-consuming but necessary tasks, it is intuitive and invaluable. This one-stop-solution will free time throughout the practice, from the front desk to managerial tasks, it cuts costs and frees you to spend time more profitably.
Customer Support
Our customer support is exceptional. When you choose Remedly, you are not only choosing top quality EHR and RCM software, you are choosing to cover yourself with top quality support from our customer support team. When you contact Remedly you will speak to a knowledgeable person, live, who has access to expertise from every sector of the company. Our team includes medical professionals, Research and Development, engineering, software and technology experts, as well as people who understand what is needed by you, on the front line, providing services to patients.
Software Implementation
Med spa EMR software should free time for practitioners and staff. Remedly recognises that your time is too valuable to spend on mundane, time-consuming tasks that could be automated. From the implementation of Remedly software, the process is smooth. We provide training for you and your staff and our Remedly's software is designed to allow easy migration of data from your existing system.
There are two options for onboarding, self onboarding, or our Customer Success team will take care of it for you. If you opt for self onboarding, Remedly have produced webinars to support your practice staff to transfer data smoothly from any existing software system. Our Customer Success team is here to help you, whichever way you choose.
Integrations
Medical spa practice management is facilitated by high performing software. Client experience is key to success, our software is designed to support that. With Remedly's med spa software, there are a number of integrations available for you to choose from, according to what is right for you. These integrations improve workflows, communications, cash flow and time-management.
Payments – We have strong partnerships with 360 Payments and Square. This provides payment systems that are flexible, secure, convenient and scalable for you and your clients.
Elab – LabSoft Inc is an innovative solution, you can request lab tests, create lab orders for patients and receive results. Results are automatically added to your patient's notes.
Two Way Texting – Our integration with Twilio enhances customer engagement by more personalized interactions. Your business grows stronger by ensuring patients are happy and communication channels are available.
E-prescriptions – Our partner DrFirst supports patients to manage their medications properly, improving adherence and providing a more accurate medical history. Patients feel better supported, empowered and more engaged.
Medical Spa Software Key Features
Medical spa EMR software needs to work as hard as you do to ensure your practice's success. The features at your disposal have been carefully designed to make light work of administration, communications, marketing and more, your time is valuable, and how you spend it impacts the success of your practice. We have made sure that our software for spas includes the features that will be beneficial to you.
Online Forms & Medical History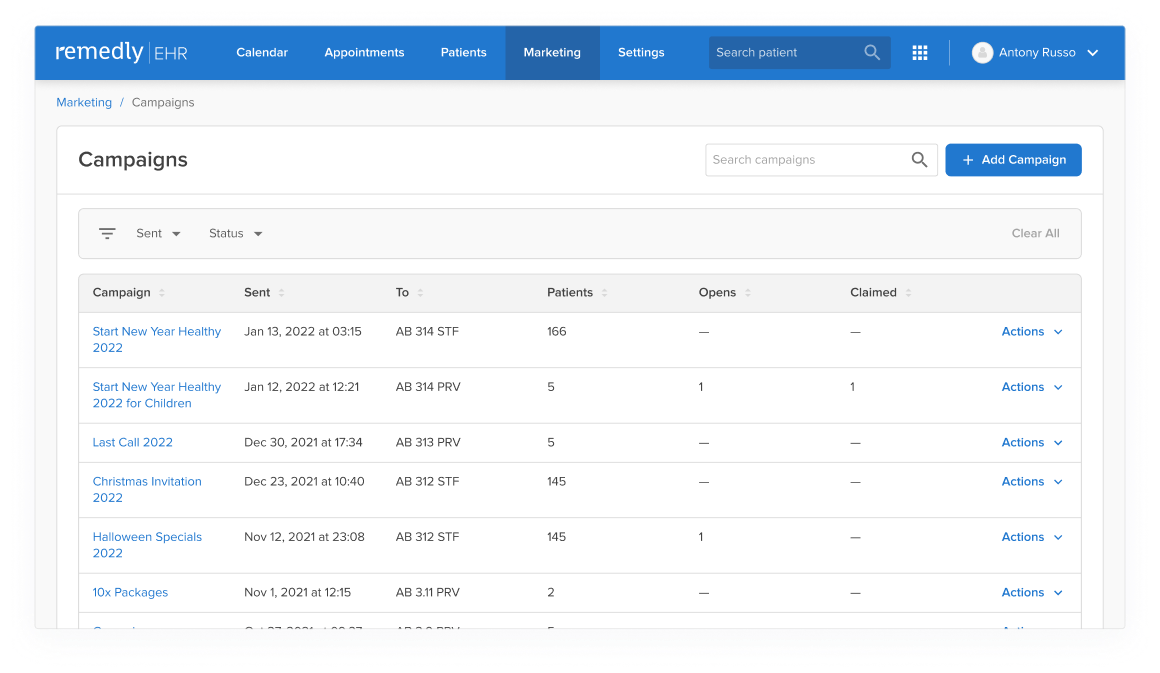 High functioning, targeted and effective communication tools take the guesswork, and costs, out of marketing.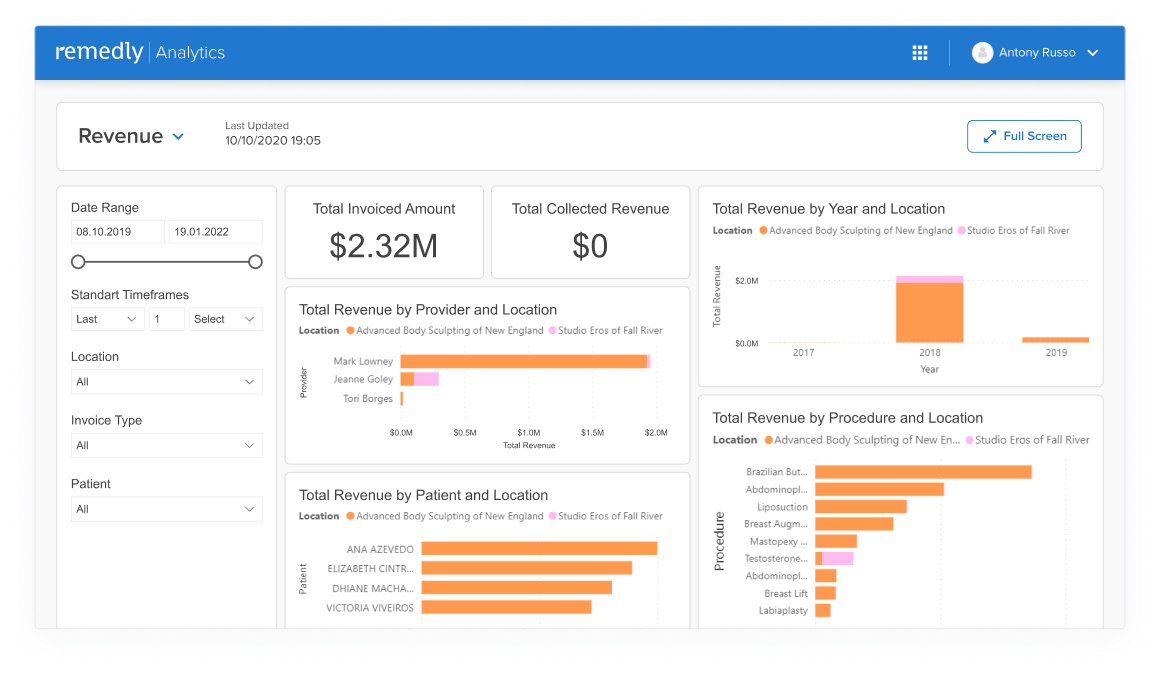 Equips you with accurate data to make informed decisions. Instantly see your performance across a wide range of metrics.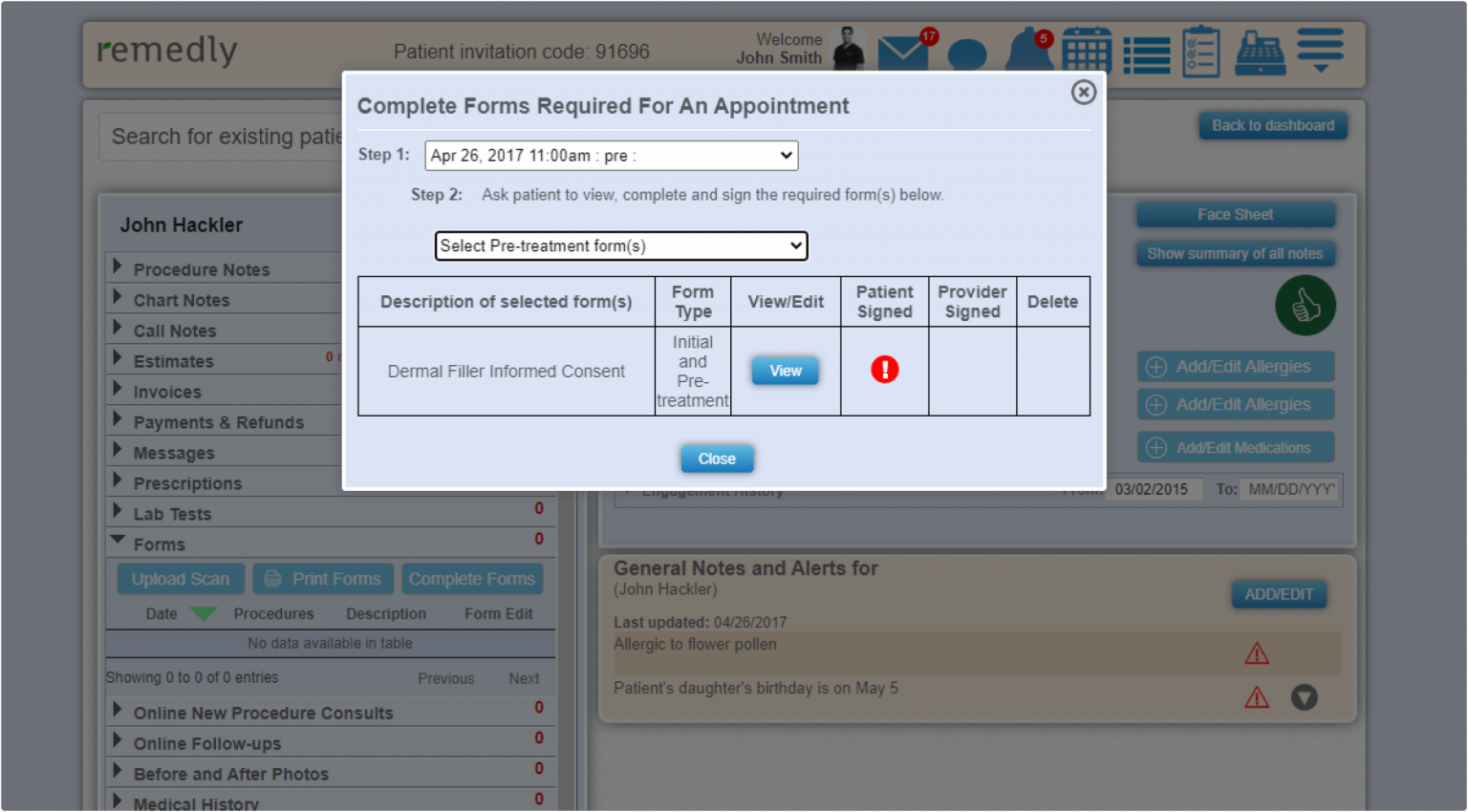 Automated, customizable forms sent out to the right patients at the right time.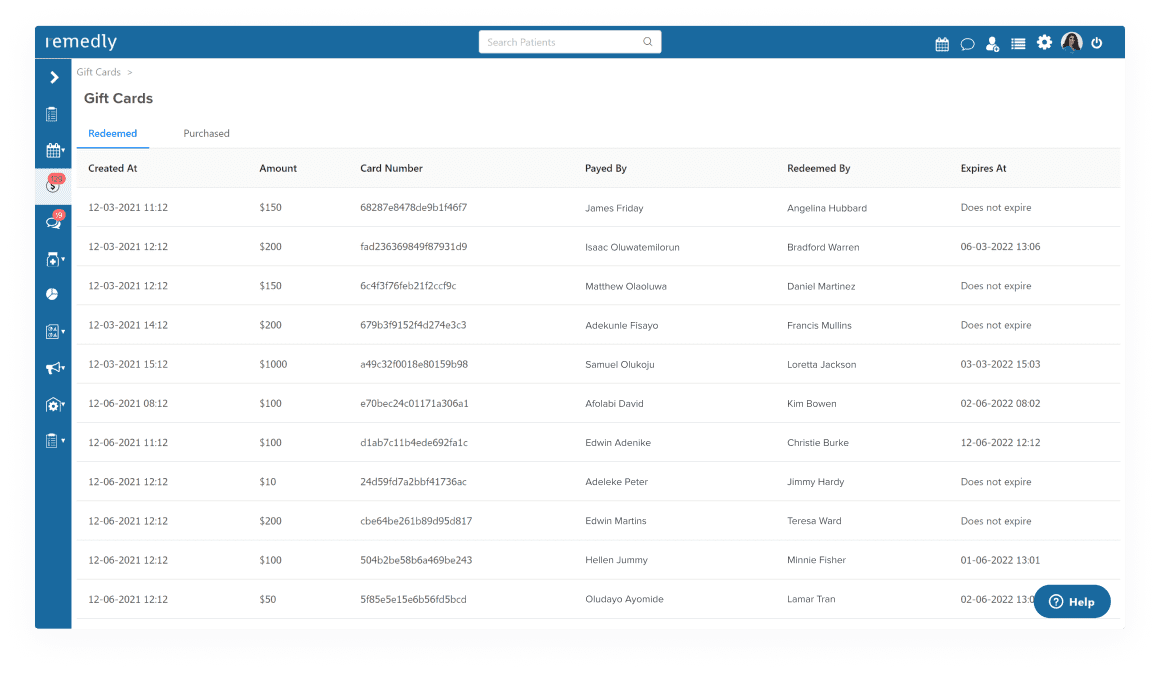 Upsell, encourage return visits, introduce new patients and reach a wider and more relevant client-base.
You and your patients can read and update medical history, record keeping that keeps everyone informed.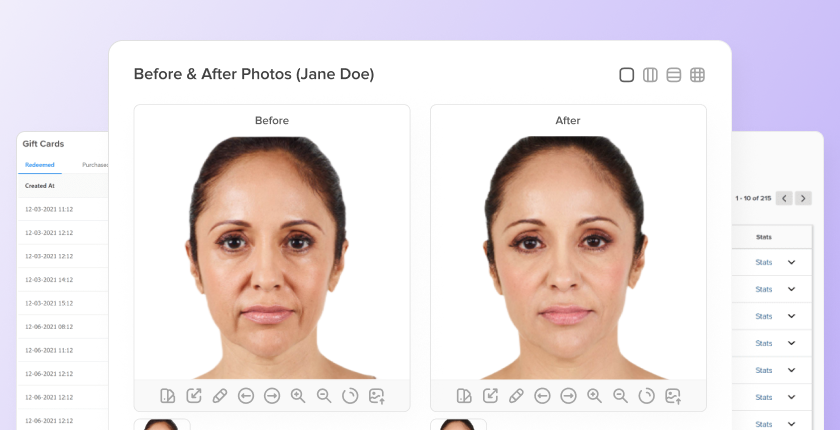 A permanent record of the difference you make to people's lives, for them, you, and for potential patients.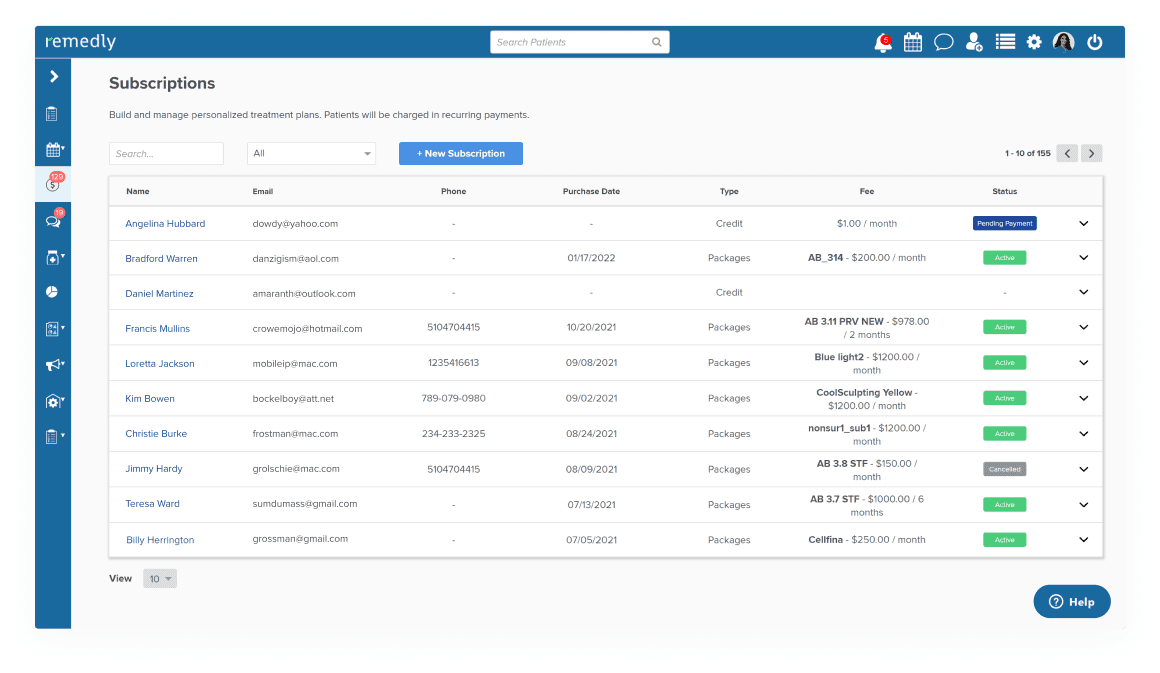 Subscriptions make your service more accessible and give patients control, as well as making cash-flow more predictable and manageable.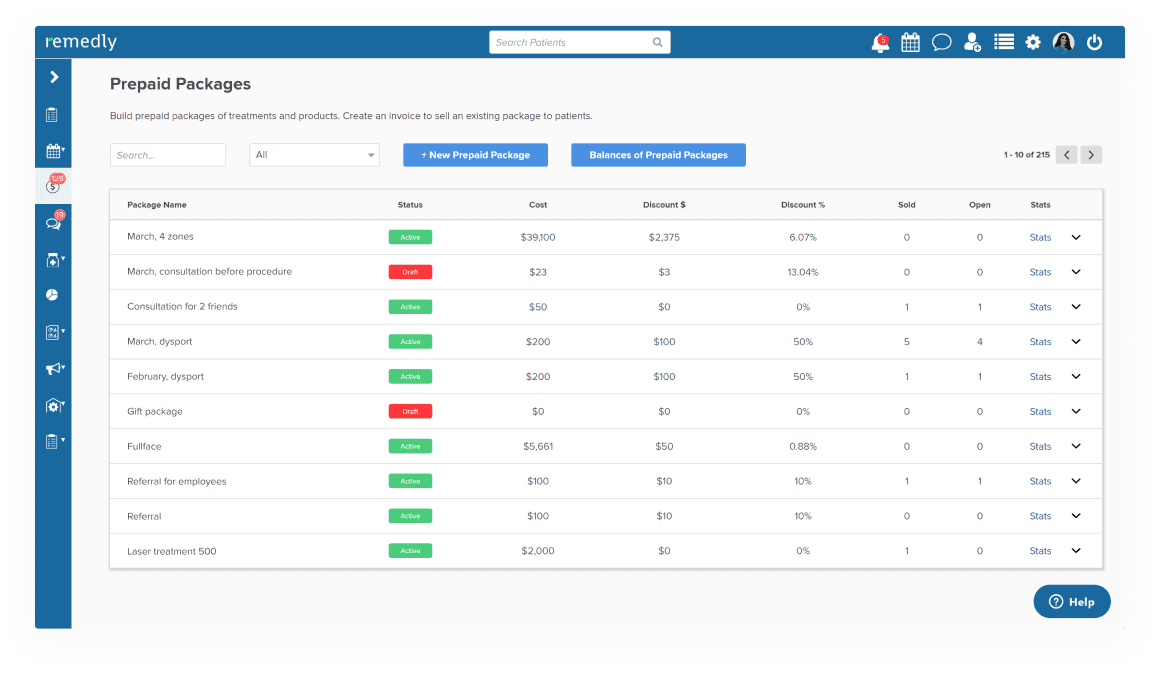 Packages can be offered at a discounted price determined by you, allowing patients to add more treatments, increasing revenue for your practice.
Online Forms & Medical History
Reviews
That's cool. But the electronic health records system is so smooth, it has saved us countless hours. Awesome system.
Mukhtar R.
"Owner Health, Wellness and Fitness"
Overall, Remedly is fantastic for medical spas. It's customizable features. It is unparalleled.
Amanda B.
CEO Medical Practice
Remedley offers a comprehensive medical database from scheduling to check in kiosk, procedures records, notes, follow ups, invoices, payments
Ali H.
Owner Health, Wellness and Fitness
Learn more