What makes Remedly's system stand out as an EHR for mental health providers? Our mental health software was designed after consultation with medical professionals. We took time to fully understand your medical specialty and exactly what you need. Our mental health EHR software includes encounter documenting, patient charts, intake forms, and consent forms, among other features, all to improve the efficiency and longevity of your practice. Automated workflows generate patient forms, enable patient payments via email, and initiate insurance billing. In addition comprehensive reports provide you with the data needed to make the right decisions for your practice and patients.
Our easy-to-use, customizable, and flexible EHR is a great fit for mental health practices of any size or specialty, including psychologists, psychotherapists, psychiatrists, counselors and social workers. Save time and effort immediately with
our EHR
which will manage appointment communications, track copay and prior authorization details, and ensure comprehensive note documentation, to name a few. Annual and quarterly reports make it easy to submit tax declarations and track practice productivity. We could talk about functionality here for hours, but we know what matters most is that you will have more time and a lot more mental space to focus on your patients.
Free Trial

Pricing
Remedly's EHR for Mental Health Providers, the Perfect Fit
Remedly's software is designed to be easily customizable for a wide range of specialties. Are you a family or drug addiction therapist? Do you work with children or adults? Are you a solo provider or a well-established practice with multiple locations? Regardless of your needs, Remedly has you covered. Our customizable templates for documenting encounter notes allows you to capture the data your practice needs to address a wide range of services. With our versatile calendar, you can optimize your practice schedule including unique views per user.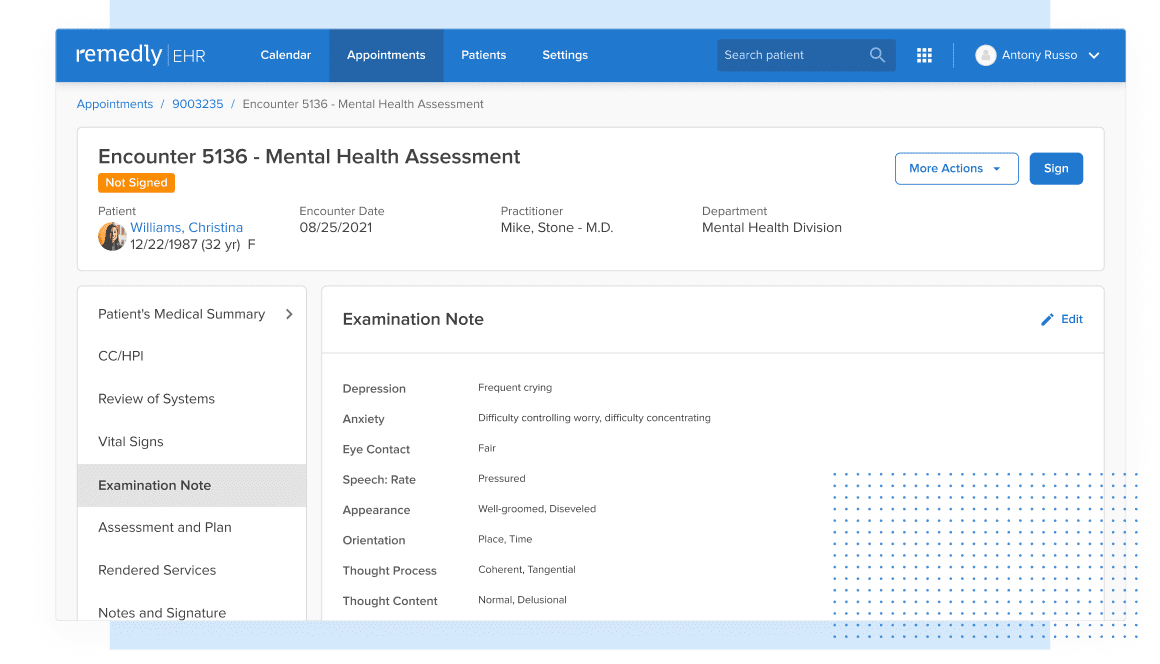 EHR That Saves Time & Revenue
Remedly's mental health EHR systems allow you to spend more time on patient care, knowing the EHR will handle the administrative preparation and billing processes for each appointment. Patients are prompted to confirm their appointments and complete their forms in advance, payments can be made by patients online and you can check up on the status of any process, giving you back the time you need. Feel free to use our ready-made templates.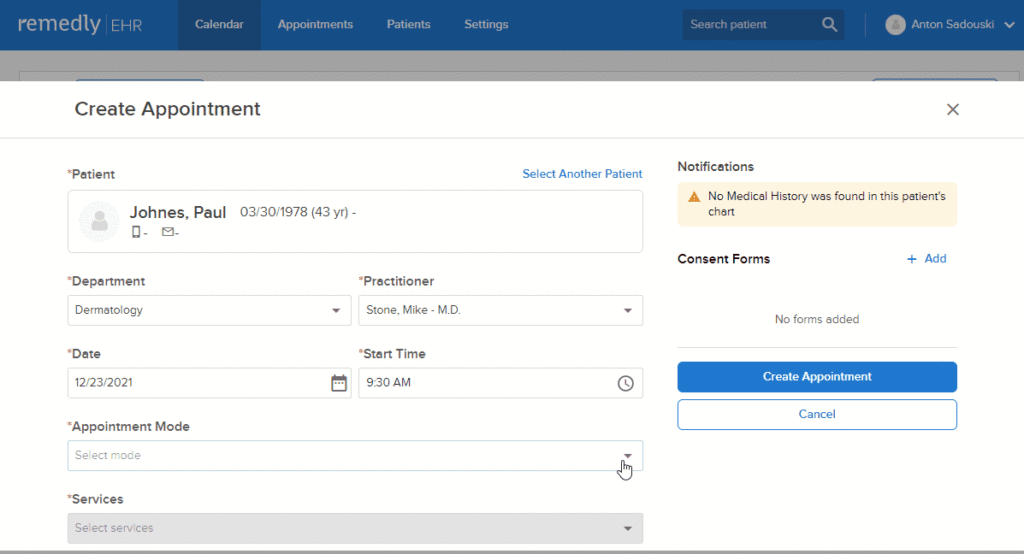 Software Meets Your Needs
Mental health EHR software should meet the specific needs of each provider, providing the solutions that will benefit your practice. Remedly has worked with mental health practitioners to ensure our software meets or exceeds requirements. If you tell us exactly what reporting you need, we will do our best to create it. We are here to support you.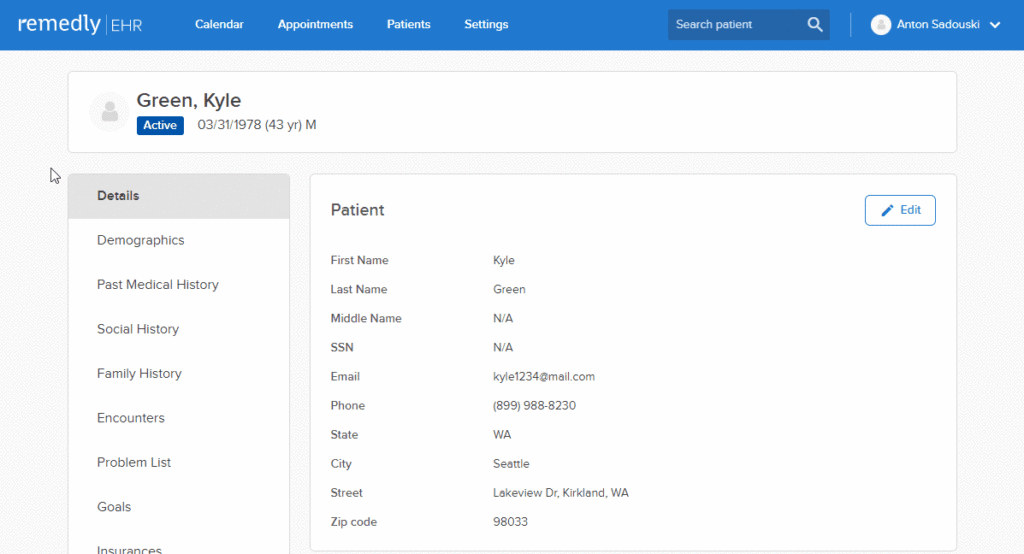 Like humans, no two practices are identical, our forms are customizable, you can choose from our templates or simply speak to our team, and we will produce what you need. Intake and consent forms are also completely customizable for each EHR and each practice.
Telehealth Solution
Our Telehealth option enables patients to meet with you online, offering them and you, security, convenience and a safe place to make progress. With virtual visits gaining popularity, this feature has significant benefits for any practice and its patients.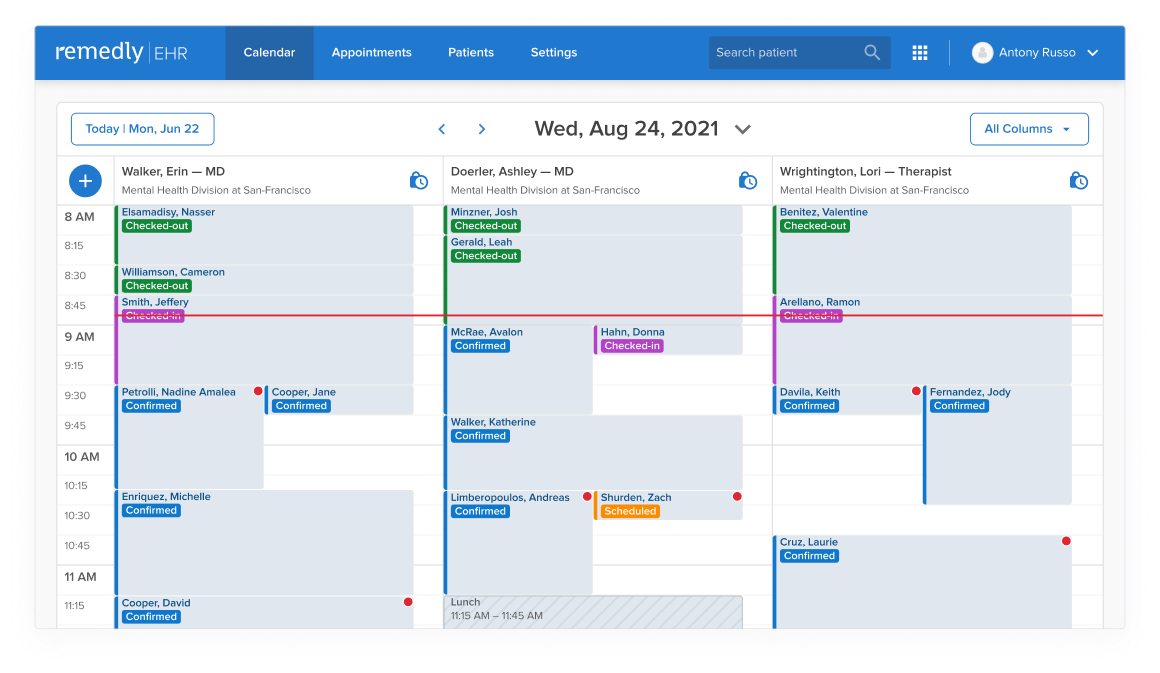 Your workload is relieved as your practice's workflow with each patient is automated by the software system. Links inviting patients to their consultation are sent via email and the consultation can then be added to their personal calendar. This technology is easier for you, for your patients and it strengthens the professional relationship between you. As a practitioner, you choose the platform that works best for you, you simply need to add the link to the system, the rest is taken care of, leaving you to take care of your patient.
Cloud-based Mental Health EHR
Our solution is accessible on all platforms and devices, enabling access from any device at your disposal, be it PC, smartphone or laptop.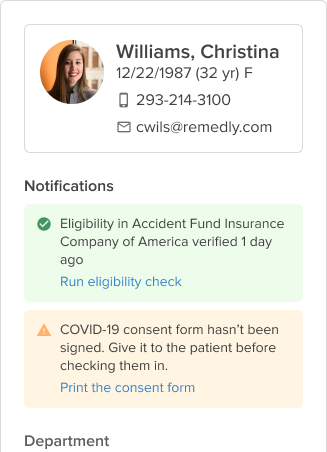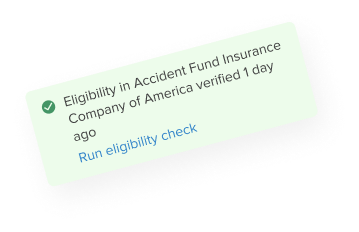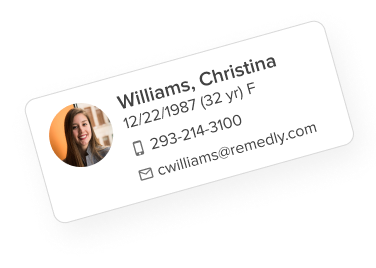 Safety & Confidentiality Assured
Our EHR is developed in accordance with HIPAA compliance regulations, assuring that all patient information is protected and confidential. We have built in safeguards for our reputation, and more crucially, yours.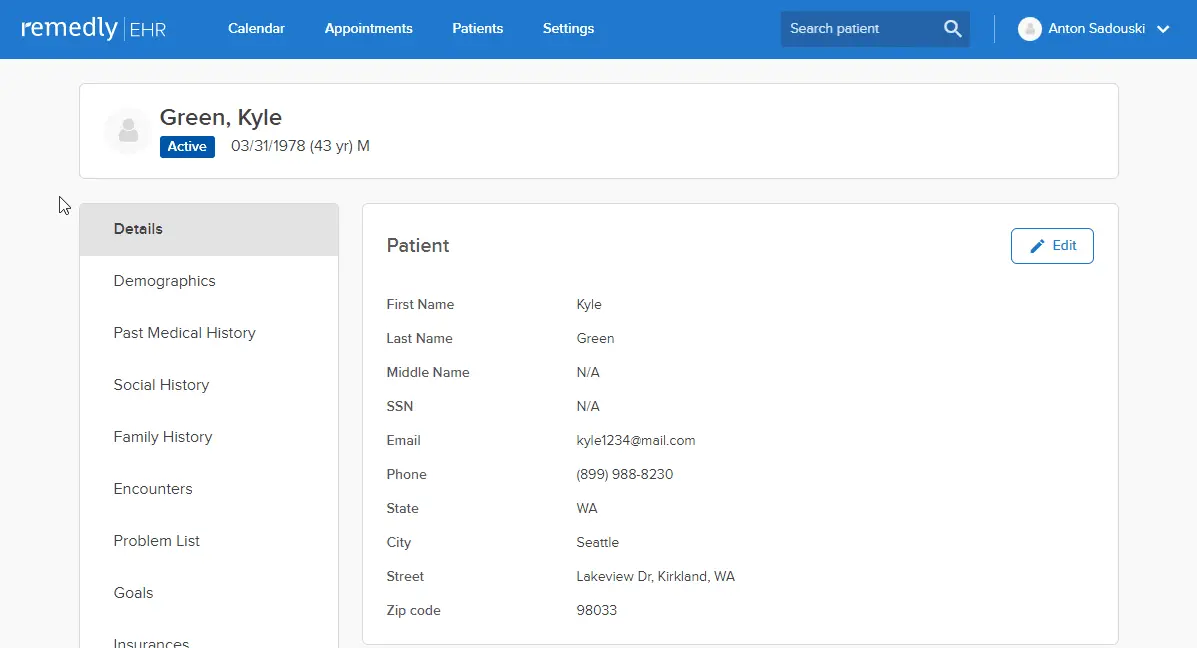 Features
A quick guide to some of the most popular software features for behavioral/mental health providers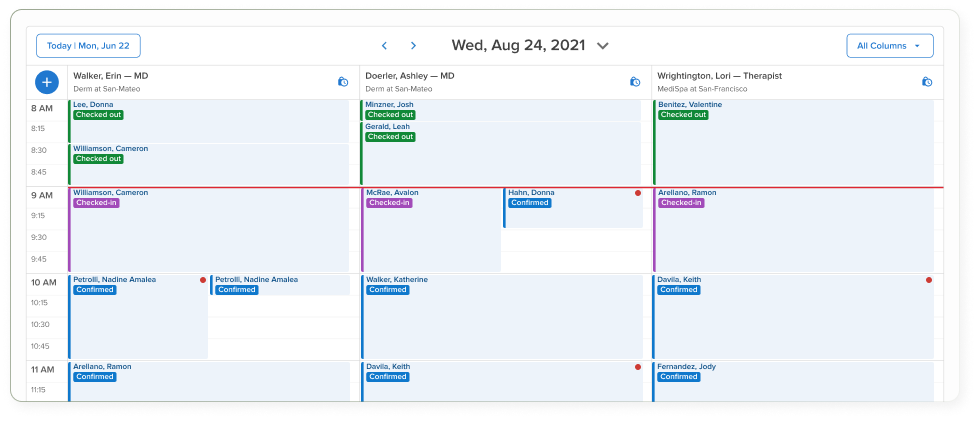 Fully customizable intake and consent forms, or we can create exactly what you need.
Optional extras available e.g. Integrated eRx, eFax, eLabs.
Superbills – automated bills created for complex/multiple encounters
Full-featured calendar and scheduling
Prior Authorisation Number management – A prior authorization number is an important tool used by insurance companies to approve coverage for medical services, procedures, and prescription drugs. Using a prior authorization number ensures that you get paid for your service for each patient.
Pricing
Starting at
$89 per provider/month
---
Customizable Intake forms with possibility to be signed online
Customizable treatment planners and progress notes
Robust financial reporting
Unlimited appointments and notes
Virtual visits support (telehealth)
Full-featured calendar and scheduling with tasks reminders
Appointment reminders
Seamless client and insurance billing (superbills)
HIPAA compliant online client statements
Insurance invoicing and payment tracking
Credit card processing with different payment options, powered by Global Payments
Unlimited clients and staff members
Seamless client and insurance billing (superbills)
Fee per additional provider is charged.
Please contact us to learn more.
Electronic claims filing and ERA/EOB receipt. Additional fee is charged.
ePrescription and allergies. Additional fee of $75 per provider per month is charged.
Try it now
MyOutcomes - Our Trusted Partner
MyOutcomes is the gold standard outcome tracking system, trusted globally by leading behavioral health service providers.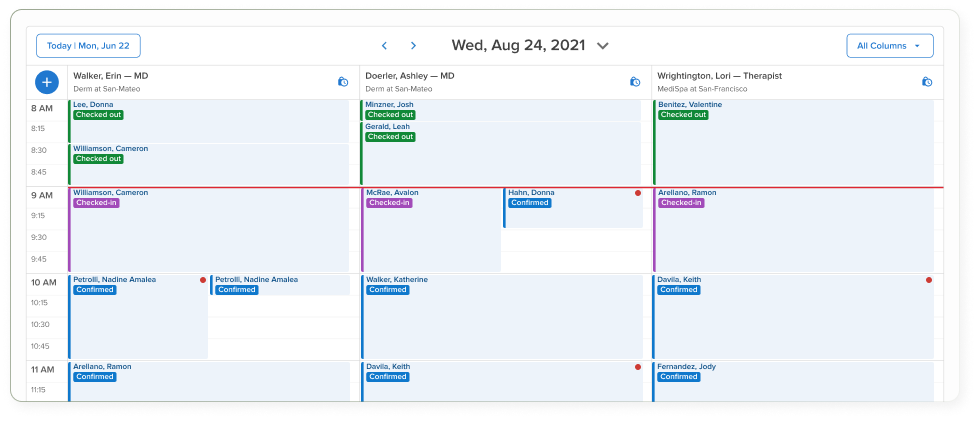 Feedback-Informed Treatment (FIT) is exactly as it sounds. FIT allows counselors and therapists to record and track client feedback in real-time to improve the treatment they offer. FIT, when used on an ongoing basis, was most recently found to improve the therapeutic relationship and increase benefits experienced by clients.
MyOutcomes builds on the growing evidence behind FIT, users can integrate MyOutcomes credentials with the EHR. This allows therapists and their clients to see the benefits of FIT. Feedback-Informed Treatment consists of two separate surveys of four questions that clients rate for themselves on a sliding scale. These two scales are the Outcome Rating Scale and the Session Rating Scale. MyOutcomes is a positive force for patients and for practices.